---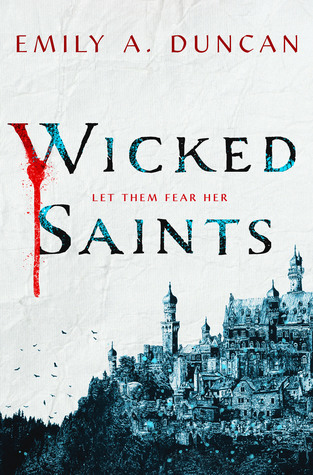 ---
---
Trigger warnings include self-harm and parental abuse. 
REVIEW | WHY SHOULD YOU READ WICKED SAINTS ?
"We're all monsters, Nadya, some of us just hide it better than others."

-Emily Duncan, Wicked Saints
This was a bloody book. I mean that literally. Blood is the currency, if I may use that word.
Wicked Saints is the story of a girl who is touched by divinity, a monster with secrets and a prince who wants nothing but to save his country from ruination.
Wicked Saints reminded me a bit of the Grisha trilogy , but in a darker, more gruesome way. It is set in a place where countries are at war with each other and our three protagonists-Nadya, Serafin and one other boy-might bring a stop to the war or cause utter ruination.
The story starts with Nadya who is a cleric touched by the gods. Clerics are people who can perform magic but with the aid of one god. However, Nadya can communicate with all the gods and they grant her powers whenever she is in need of them. Sounds simple? It isn't. Nadya has lived a simple, secluded life within the walls of a monastery but she is soon about to realize just how much danger her powers will land her in.
Nadya doesn't have to wait for long to start using her powers as the monastery is soon attacked by an enemy prince who is a powerful Blood Mage. Despite being aided by powerful gods, Nadya's powers are not enough to save everyone and she is forced to flee with a friend.
While on the run, Nadya and her friend stumble upon three rebels who want a similar outcome as Nadia does. Malachiasz -the leader of the three- is from a country who at war with her's so he should be her enemy but Nadya is too desperate to ignore help. In return, the three ask Nadiya's help to infiltrate the palace of the enemy but it will be too late for Nadya to realize that she is not the only harboring a dangerous secret…
I loved this new concept of magic, even if it was too bloody. There was no clear good or bad sides. I mean, I questioned Nadya's faith as much as I did Malachiasz's. The plot picked up about halfway through the book(for me) and I couldn't put it down after that.

An achingly mournful half-smile caught at his lips and it took all of Nadya's willpower not to kiss him again.

-Emily Duncan, Wicked Saints
The ending was unbelievable. It was a total 180 than the ending I had predicted. After closing the book and immediately wanted the sequel in my hands.
Why should you read this book? If my review didn't convince you to pick this book then I wouldn't know why. I can tell you why you shouldn't pick up this book. If you have read the trigger warnings above and you feel that this isn't for you then don't pick it up. If you are someone who is not the audience for the said trigger warning then, what're you waiting for?
Overall, this was a fantastically wicked fantasy novel from Emily A. Duncan and I need the sequel now!

Thanks to Macmillan International for providing me with an ARC in exchange of an honest review.
Verdict: 4.5 out of 5 stars
Author: Connect with Author Emily A. Duncan here .
Publisher: Wednesday Books
Publication Date(US): 2nd April 2019
ARC: 400 Pages
Do you think you'll read Wicked Saints? If you've already read the ARC, let me know your thoughts down below!
What are your thoughts on trigger warnings: Do you like them to be on top, before the review or after? If you're a blogger, do you include trigger warnings in your social media reviews?