---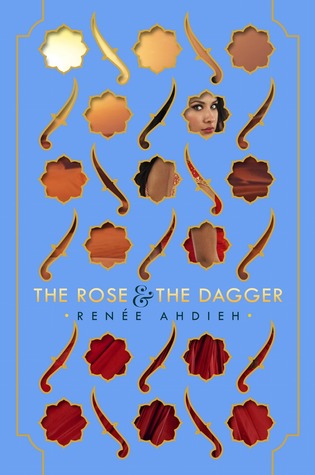 ---
---
REVIEW | WHY SHOULD YOU READ THE ROSE & THE DAGGER?
"It was because they were two parts of a whole. He did not belong to her. And she did not belong to him. It was never about belonging to someone. It was about belonging together."
Before reading this review, I am supposed to say "SPOILER ALERT". If you haven't read The Wrath & The Dawn – the first book in the duology- then don't proceed or you may,totally your choice.
I didn't LOVE The Wrath & the Dawn but I was eager enough to pick up the second book of this duology and after posting two pictures of the book on Instagram, I promptly forgot about it. *I read this book in January*
The Rose & the Dagger starts off where its predecessor ended: the city of Rey was burning , thus leaving Rey and its ruler vulnerable. We also saw that Jalal sent Shahrzad away with Tariq to keep her safe and ……….. I don't remember anything else.
Anyway, so we see Khalid rebuilding his destroyed kingdom and trying not to think of his wife. On the other side, Shahrzad's the same but now she is among people who want to kill her beloved.
Jahandar, Shahrzad's father is still obsessed with the BOOK and Tariq is more frustrating than ever. Like…TAKE A HINT , Tariq! Shahrzad is HAPPILY married..of course,he doesn't take a hint and continues to make not only Shahrzad but me uncomfortable.
Moving on…we see Khalid's "uncle," the Sultan of Parthia making a comeback as THE VILLIAN who wants to overthrow "boy king" Khalid and rule the entire kingdom.
Looks like Khalid has got his work cut out for him or does he ? For there is Shahrzad, who will stop at anything to protect Khalid and save Rey from destruction.
Why should you read this book? Obviously, you should, if you read The Wrath and loved/liked it. Besides that reason,I think The Rose had more action scenes (which I loved), especially the use of magic was more prevalent in this book. There were lots of twists and turns and shocks-oh my! So, yes I'd say these are all valid reasons to buy or borrow yourself a copy of this.
Overall, this was a worthy sequel filled with magic, curses, broody boy kings, a jealous ex-boyfriend, power-hungry father, and uncles and it is written by an Asian author.
I want to thank my bank account which generously donated me -MY- money to buy this book.
Verdict: 4 out of 5 stars
Author: Connect with Author Renée Ahdieh here .
Publisher: G.P. Putnam's Sons Books for Young Readers
Publication Date(US): 26 April 2016
Hardcover: 416 Pages
Have you read The Wrath and the Dawn books? Did you like it? Love it? Hate it? Let me know all your thoughts about it? This is also my first review for the Year of The Asian Challenge 2019 so give this post some love, post some comments and if you love MY thoughts, click the follow button above.