A dark midwinter's night in an ancient inn on the Thames. The regulars are entertaining themselves by telling stories when the door bursts open on an injured stranger. In his arms is the drowned corpse of a little child.

Hours later the dead girl stirs, takes a breath and returns to life.

Is it a miracle?

Is it magic?

Or can it be explained by science?

Replete with folklore, suspense and romance, as well as with the urgent scientific curiosity of the Darwinian age, Once Upon a River is as richly atmospheric as Setterfield's bestseller The Thirteenth Tale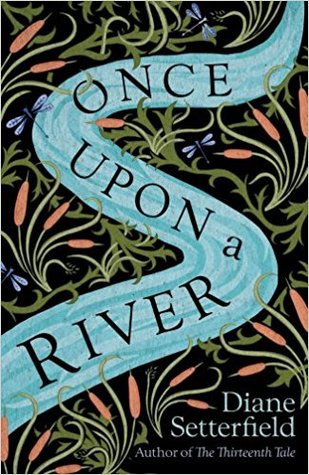 It was solstice night, the longest night of the year… And as the borders between night and day stretch to their thinnest, so too do the borders between worlds… Unexpected things can happen. Did the solstice have anything to do with the strange events at the swan? You will have to judge for yourself."
Review: This was my first time reading a Diane Setterfield novel and let me tell you my thoughts about this book.
This was such a beautifully written novel that I was hesitant to write a blog post about this….wondering if I'll be able to describe the sheer beauty of storytelling in this book.
The story is set along the banks of a fictional river Thames and follows a diverse set of characters :
The innkeeper of The Swan(and family): Margot, Joe, Jonathan
Mr. and Mrs. Vaughn
Henry Daunt(the photographer)
little girl
Mrs. Lily White
Rita (the nurse)
Mr. Armstrong
The story begins in an inn called The Swan where the main entertainment is storytelling. However, one night, a different story is seen in the making. A little girl is carried in the arms of an unknown man and is mistaken for a doll for she is so pale and still. The man's identity is soon unearthed and he is Henry Daunt, a photographer, and speculation rise if he is the little girl's father and if he is, then why would he take the girl on a perilous journey that would lead her to her death.
Fret not reader, for the little "dead" girl is not dead after all. For the nurse who took take of Henry Daunt's wounds and checked the little girl's pulse to be sure, it is a conundrum! How can she be alive ?!
This is not the only shocking thing in the story. There still remains the question of the girl's identity and we have some contenders:
Maybe she is The Vaughns' little girl who was kidnapped one day and was never seen
Mr. Armstrong's granddaughter whom he had never seen before
Mrs. Lily White's sister, although this claim is quite questionable
Everyone wants this little girl who cannot speak a word, everyone is captivated by this little girl. What's her story?
Once Upon A River starts off as a slow burn and around 100-something page or so, we come to the crux of the story. This is not historical fiction but a historical mystery with a heavy dose of magical realism.
Overall, this is the book to curl up with and let loose in the world where stories have the power to shape people's lives. The characters are so real, and so are their secrets and traumas which comes back to haunt them in the end.
*If you are a fan of The Thirteenth Tale by the author, then you should definitely pick this up. If aren't then,I highly recommend you add Diane Setterfield's books to your TBR!

"And now, dear reader, the story is over. It is time for you to cross the bridge once more and return to the world you came from. This river, which is and is not the Thames, must continue flowing without you. You have haunted here long enough, and besides, you surely have rivers of your own to attend to?"
Thanks to the publisher for an advanced review copy in exchange for an honest review.
Verdict: 5 out of 5 stars
Author: Connect with Author Diane Setterfield on Goodreads.
Publisher: Doubleday
Publication Date: 17 January 2019
Hardcover(ARC): 432 Pages