---
LINKS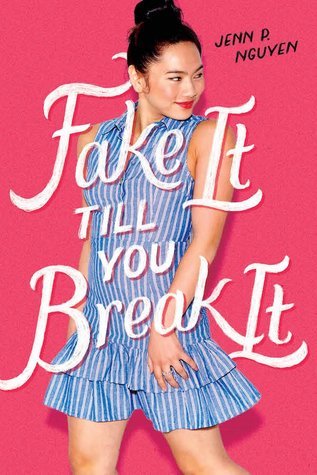 ---
SYNOPSIS
Mia and Jake have known each other their whole lives. They've endured summer vacations, Sunday brunches, even dentist visits together. Their mothers, who are best friends, are convinced that Mia and Jake would be the perfect couple, even though they can't stand to be in the same room together.

After Mia's mom turns away yet another cute boy, Mia and Jake decide they've have had enough. Together, they hatch a plan to get their moms off their backs. Permanently. All they have to do is pretend to date and then stage the worst breakup of all time—and then they'll be free.

The only problem is, maybe Jake and Mia don't hate each other as much as they once thought…
Should You read

Fake It Till You Break It by Jenn P. Nguyen

?

Fake It Till You Break it is a perfect light-hearted book to enjoy during the summer or any time when you're in the mood to smile. It's about Mia and Jake who are frustrated by their adamant matchmaker moms and decide to best them by fake dating each other. Fake Dating is one of my favourite tropes to read and even it was predictable, the author wrote it in a way that was very enjoyable.

Mia and Jake are childhood friends but somewhere along they became frenemies but their moms are always trying to get them together..because they think Mia and Jake have superb chemistry and they're fools to not see it. So, their moms do everything they can to see "JAKIA" together ..yes, they ship Mia and Jake so much that they gave them a ship name. Everytime Mia tries to date a guy, it doesn't go any further tha a week because they're run away by her mom. So, in a wedding event, Mia asks if Jake would like to fake-date her because she-they- are frustrated by their meddling moms and deserve to choose their own partners. Now, fake dating is no joke when you have fierce moms, new crushes and high school to deal with.

The question is, can Mia and Jake just pull off the fake dating thing or will it turn into something more?

While reading this, I couldn't keep the smile off of my face. It was so fulfilling, entertaining and swoon-worthy. I've been wanting to read a rom-com for a while now and Fake It Till You Break It was like a tall glass of orange juice that you crave during humid summer months. I loved the dialogues, the pace, the mother- daughter and mother-son relationships, and the friendships.

Overall, I highly recommend this book if you love reading light-hearted, swoonworthy, quick, and often sarcastic yet hilarious dialogue.

Thanks to the publisher for providing me an ARC in exchange for an honest review.
---
VERDICT:
Author: Connect with Author Jennifer P. Nguyen here.
Publisher: Swoon Reads
Publication Date: 28th May , 2019
Hardcover: 304 Pages
Will you read Fake It Till You Break It ? If you have read it, then let me know if you liked it or not. Do you like reading rom-coms ? If yes, then I'd love some recommendations. Let me know your thoughts in the comments below!