Hi everyone! I've been lax with writing up reviews and this is me trying to make up for it. This is my mini- review post featuring The Confessions of Frannie Langton by Sara Collins and The DNA Of You and Me by Andrea Rothman. They are both debuts but belong to completely different genres.
1.
The Confessions of Frannie Langton by Sara Collins

(3.5/5 stars)
Publisher: Penguin
Publication Date: 4th April , 2019
Paperback(ARC): 384 Pages
Review: The Confessions of Frannie Langton by Sara Collins is a wonderful debut and I have officially put Sara Collins on my debut authors to watch list. The premise is intriguing: Frannie, a mulatto is brought by her master to England and 'given' to another master; later she falls in love with her new master's wife. The Confessions is told entirely from Frannie's point-of-view which she wrote while she's in Newgate Prison awaiting trial in Old Bailey for the murder of her new master's and mistress.
The Confessions is described as a black woman's love story inspired by the popular gothic romance Jane Eyre. The author loved reading Austen but never saw a woman of color as a protagonist in those stories instead she read stories a woman of color was the victim. With Frannie Langton, author Sara Collins wanted to write a black woman's love story and not of her suffering. However, through Frannie's words we come face-to-face with her love and her suffering as well.
The writing is flawless but the plot is unforgivingly slow. The ending kind of smacks you in the face but in a good way because my boredom turned to interest: interest in finding out if Frannie is guilty of double murder or not? Overall, I would recommend it if you love reading historical fiction set during the Victorian era and if this mini review intrigues you so.
---
2.
The DNA of You & Me by Andrea Rothman

(3/5 stars)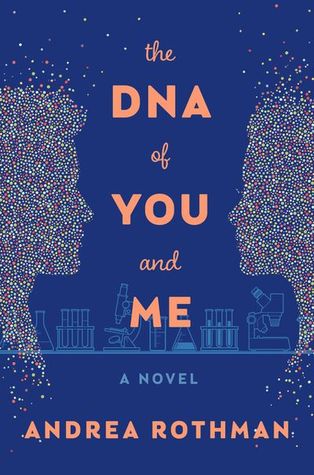 Publisher: William Morrow
Publication Date: 12 March , 2019
Paperback(ARC): 242 Pages
Review: I loved the unique story of The DNA of You and Me but it's not for everyone's taste. Emily was raised by her father and due to a childhood allergy, she was accustomed to spending most of her childhood indoors. This would've put a damper on her socializing with other kids but as she grew up, Emily realized that she preferred the company of herself rather than others. Her personal experience eventually left her to research new genes responsible for guiding olfactory neurons to their targets. (Olfactory: the sense of smell) During this research, she meets another academic Aeden and after a series of long arguments, their relationship goes to another level. However, there'll come a time when Emily has to make a choice: Her career or a life with Aiden?
I loved it but as I said before that this book isn't for everyone. Most of the book is filled with genomic sciences jargon that took the story a little to much to the non-fictional side. There's romance if you skim the scientific stuff but it's an easy read. The sex is almost clinical in the beginning and that may be because it's told from the POV of the narrator. However, there's a scene when Emily says 'no' but Aeden still goes ahead and that left a bitter note in the entire story. I'm ashamed to say that I even forgot about this scene until I read another Goodreads review. The ending left me emotional but happy and hopeful for Emily. It did give me Eleanor Oliphant vibes but this one has way too many scientific jargon for a reader to enjoy.
However, considering this is a debut and the fact that I liked the writing, I'd definitely look forward to reading her upcoming books.
Thanks to the publishers for providing me ARCs in exchange for an honest review.
Do you think you'll read The DNA of You and Me or The Confessions of Frannie Langton? Do you prefer reading mini-reviews or full reviews? Let me know your thoughts in the comments below!