---
LINKS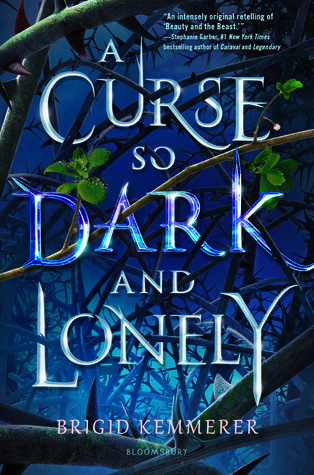 ---
SYNOPSIS
Fall in love, break the curse.


It once seemed so easy to Prince Rhen, the heir to Emberfall. Cursed by a powerful enchantress to repeat the autumn of his eighteenth year over and over, he knew he could be saved if a girl fell for him. But that was before he learned that at the end of each autumn, he would turn into a vicious beast hell-bent on destruction. That was before he destroyed his castle, his family, and every last shred of hope.

Nothing has ever been easy for Harper Lacy. With her father long gone, her mother dying, and her brother barely holding their family together while constantly underestimating her because of her cerebral palsy, she learned to be tough enough to survive. But when she tries to save someone else on the streets of Washington, DC, she's instead somehow sucked into Rhen's cursed world.


Break the curse, save the kingdom.


A prince? A monster? A curse? Harper doesn't know where she is or what to believe. But as she spends time with Rhen in this enchanted land, she begins to understand what's at stake. And as Rhen realizes Harper is not just another girl to charm, his hope comes flooding back. But powerful forces are standing against Emberfall . . . and it will take more than a broken curse to save Harper, Rhen, and his people from utter ruin.
Should You read

A Curse so Dark and Lonely by Brigid Kemmerer?
I am always surprised to discover that when the world seems darkest, there exists the greatest opportunity for light.

― Brigid Kemmerer, A Curse So Dark and Lonely
Retellings are such a popular genre in the bookish industry right now that if you love reading them, you will be spoilt for choice. I love retellings because I see badass, unsure but still fierce(badass) heroines as the protagonists, even better if they're a person of color and/or a neurodiverse rep or an LGBTQ+ rep..In A Curse so dark and Lonely, I saw a badass heroine named Harper Lacy, who has cerebral palsy and she OWNS the show..well, the story.
This book is described as a modern Beauty and Beast retelling minus the awesome library. WHY ? *cries* I wanted another fantasy library to dream about. Anyway…Harper and Prince Rhen are the protagonists and the story is told from both of their POVs. This is my first Brigid Kemmerer novel and I was amazed by the way she took "a tale as old as time" that portrays an abusive relationship and turned it into something beautiful..something I'd like everyone to read and re-read.

The story starts in Emberfall. Prince Rhen is wiping blood from his hands and there's his Guard Commander Grey who is apparently Commander only by name as there're no men to command anymore. Rhen also asks his Grey of the whereabouts of a girl and he replies that she's gone. Gone where? Apparently it doesn't matter to either of them as Grey sets off to find another girl for Rhen..This is not the only thing that creepy here in Emberfall. Rhen remarks that he doesn't care about what kind of girl begins or how much blood is shed as this season will repeat itself again and thus, he will be eighteen for the three hundred twenty-seventh time.
Then, we'll move on to Washington DC where we see Harper acting as the look out while her brother's out on a dangerous job. Harper catches Grey carrying a girl and Harper attacks him which ultimately leads her(and Grey) to Emberfall.
In Emberfall, Harper is horrified to discover that she isn't in DC anymore and Rhen expresses his "regrets" and tells her that he can't let her until after the season is over. When Harper manages to escape from the castle, she discovers the plight of Emberfall. A kingdom where a curse has managed to wreak havoc on the people and Harper is Rhen's and Emberfall's only hope to save it. 
"This early in the season, the other girls would sit by the hearth and gaze at me over crystal goblets, while I'd pour wine and tell stories with just enough devilishness to make them blush. If I put a crystal goblet in this one's hand, she'd likely smash it and use the shards to cut me." 
You'd think that since it's a Beast retelling, you'll only see the Beast as the villain but you'd be so wrong. As I've said before, Harper is almost everything I love to see in a female protagonist. She has cerebral palsy but she doesn't let anyone see her as uncapable and weak, instead she educates the people and Rhen on celebral palsy. However she isn't a character without flaws and neither is Rhen or Grey.
Rhen was a spoiled prince before the curse but for hundred years, he suffered abuse for the sake of his people. I loved that he didn't make a big deal out of Harper's physical restrictions and acknowledged his mistake in underestimating her strengths. Grey is loyal to Rhen and even it breaks him, he will continue to stand by Rhen because he has vowed to do so.
I loved the pacing of the book and the flawed characters. It was incredible to see such relatable mental health representation. I loved the friendship between Harper and Grey and Rhen. I loved the slow-burn romance between Rhen and Harper. It was not the focus of the story and there were other stakes like saving Emberfall and Rhen from the curse and foreign invaders, protecting the people from the Beast, and saving Harper's family. The ending was perfect which leads me to confess that I'm now addicted to Brigid Kemmerer's writing and eagerly waiting for the sequel to this fantasy and her upcoming titles.

Overall, I highly recommend this book if you're a Brigid Kemmerer fan, love retellings, strong but flawed characters, neurodiverse rep, beautiful friendship, and slow-burn romance.
Thanks to the publisher for providing me an ARC in exchange for an honest review.
---
VERDICT:
Do you think you'll read A Curse so Dark and Lonely? Have you already read it? Let me know your thoughts in the comments below!

---