Butterfly in Frost by Sylvia Day
Publication date: August 27th, 2019 
Publisher: Montlake Romance
Pages: 199
Genre: Womens fiction, Adult, Romance, Novella
Buy:Book Depository | Wordery
Synopsis:
From #1 New York Times bestselling phenomenon Sylvia Day comes a hotly anticipated and passionate new love story.
Once, I would never have imagined myself here. But I'm settled now. In a place I love, in a home I renovated, spending time with new friends I adore, and working a job that fulfills me. I am reconciling the past and laying the groundwork for the future.
Then Garrett Frost moves in next door.
He's obstinate and too bold, a raging force of nature that disrupts the careful order of my life. I recognize the ghosts that haunt him, the torment driving him. Garrett would be risky in any form, but wounded, he's far more dangerous. I fear I'm too fragile for the storm raging inside him, too delicate to withstand the pain that buffets him. But he's too determined…and too tempting.
And sometimes hope soars above even the iciest desolation.
– My Thoughts –
"I'm tired of hurting," he says softly. "You remind me that my body can feel things other than pain."
I remember reading Sylvia Day's Crossfire series and it was sexy as hell. That is why I was interested in this novella.
Butterfly in Frost is related to the Crossfire novels and Eva, the heroine of Crossfire series, does make an appearance in this novella. The story is about Dr. Teagan Ransom, a cosmetic surgeon who's recently divorced. She's heartbroken as a result and isn't ready to move on just yet. When a new guy moves in their neighborhood, Tegan's carefully laid foundations are shaken to the core.
There was a great story in here but I felt it was not covered in great detail. I loved the plot twist and it would have fared better if this was a full length book.
Overall, I would recommend this book if you are a Sylvia Day fan and are looking for a light and easy romance novel.
Thanks to the publisher for gifting me a copy in exchange for an honest review.
– About the Author –
Sylvia Day is the #1 New York Times, #1 USA Today, #1 Sunday Times, #1 Globe and Mail, #1 Der Spiegel, and #1 international bestselling author of over twenty award-winning novels sold in more than forty countries. She is a #1 bestselling author in twenty-eight countries, with tens of millions of copies of her books in print.
For more about Sylvia, visit her website and her Goodreads page, or follow her on Twitter.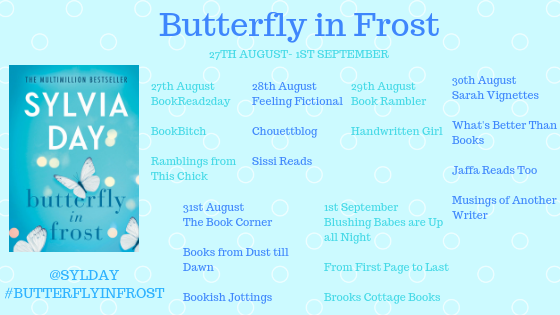 Thank you for reading! Have you read the Crossfire books or will you be reading this novella? Let me know your thoughts in the comments below!