---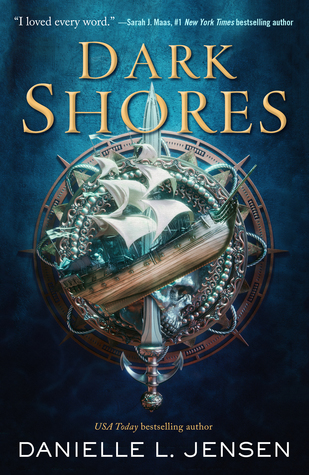 About the Book: Publisher: Tor Teen Publication Date: 7th May, 2019 Paperback(ARC): 368 Pages Genres: YA Contemporary
Goodreads Buy: Book Depository | Wordery
SYNOPSIS
In a world divided by meddlesome gods and treacherous oceans, only the Maarin possess the knowledge to cross the Endless Seas. But they have one mandate: East must never meet West.

A PIRATE WITH A WILL OF IRON

Teriana is the second mate of the Quincense and heir to the Maarin Triumvirate. Her people are born of the seas and the keepers of its secrets, but when her closest friend is forced into an unwanted betrothal, Teriana breaks her people's mandate so her friend might escape—a choice with devastating consequences.

A SOLDIER WITH A SECRET

Marcus is the commander of the Thirty-Seventh, the notorious legion that has led the Celendor Empire to conquer the entire East. The legion is his family, but even they don't know the truth he's been hiding since childhood. It's a secret he'll do anything to protect, no matter how much it costs him – and the world.

A DANGEROUS QUEST

When an Empire senator discovers the existence of the Dark Shores, he captures Teriana's crew and threatens to reveal Marcus's secret unless they sail in pursuit of conquest, forcing the two into an unlikely—and unwilling—alliance. They unite for the sake of their families, but both must decide how far they are willing to go, and how much they are willing to sacrifice.
Should You read

Dark Shores by Danielle L. Jensen

?
"You cannot tell, you cannot tell…. Better to die than to tell."

Dark Shores is a YA fantasy and is a story about a pirate, a soldier and a dangerous quest they have to embark on. It's purely plot driven and you'll feel like you're going on an adventure. Perhaps, this is why I loved the book so much. Let me tell you a bit about the story.
The story begins in Celendor where we see Teriana, one of our protagonists, who disembarks off of her ship and goes to find her best friend. Teriana is not a Celendorian but she's a Maarin who are seafaring people and mainly come to Celendor for business purposes. When Teriana sees her best friend after a long time, she divulges the secrets of the West aka the Dark Shores to her. That was a mistake as the "East must NOT Meet West". As a consequence of divulging these secrets, Teriana looses most of her crew when they are attacked by a ship of the Celendor Empire.
"They think I'm just the daughter of a merchant captain. they don't realize that my word carries weight with kings."

-Teriana
On the other hand, we meet Marcus who's the commander of the Thirty-Seventh, the deadliest legion that has been paramount to the Empire in conquering the entire East. Soon, Marcus is called to a senator named Cassius' home, where he blackmails Marcus into voting for him at a Senate election. Marcus has two choices: Vote for Cassius and let Celendor be ruled by a dictator or let Cassius out his secret which would destroy his family and make his soldiers doubt him.
When Teriana and her crew is captured, she's tortured and questioned about the "mythical" Dark Shores or the lands in the West. Marcus, who's present during the questioning along with Cassius, offers Teriana a chance to save her mother and the rest of her crew or die along with them. However, saving them would require a sacrifice of a different kind: revealing the secret of Dark Shores. In the end, Teriana leaves with her crew, Marcus and his troops in a dangerous journey to the previously undiscovered, previously mythical Dark Shores. Will they survive this perilous journey? As the path to the Dark Shores is guarded by Gods and half-gods who have fought and succeeded at keeping this part of the world a secret.
"Makes one wonder how many secrets you harbor."

-Marcus
If you love reading about adventures, plots that go all twisty when you least expect it to, then you should definitely read Dark Shores! This book is the first in a series and that's why you'll find most of the scenes open to interpretation. For example, you'll wonder about Marcus: is he the villian or the hero..or the anti-hero? Marcus is another unique character because he isn't "fit" to head an army yet he does that impeccably. I thought of him as an anti-hero because the secrets he still keeps from Teriana at the end of the novel. Besides Marcus, I loved Teriana.. her fierceness and her loyalty to those she loved. She suffers a lot to keep the secret of the Dark Shores and there's also a hint of some other secrets that she's been keeping. There's no memorable villian yet. Cassius was cruel yes but he didn't go full on psycho or something to make him memorable. There's an introduction of a possible villian but you'll have to wait until book 2 to see the full picture.
I liked the world building but what I loved most was the journey on the way to Dark Shores, which was an integral part of the story. Dark Shores is inspired by Roman history and you can see quite a few similarities there. It was filled with action and there's a scene where Gods battle each other; I would have loved to see the Gods play a major role in this story. If you're interested in a readalong (and also win a prize), go to Danielle Jensen's insta as she's hosting one!
Overall, I highly recommend this book if you love reading stories filled with adventures on the high seas, badass ladies at the helm, soft boys who've no option but to fight in their legion, and slow burn romances. Also, I recommend Dark Shores to you if you loved To Kill a Kingdom by Alexandra Christo, Seafire by Natalie C. Parker or Daughter of the Pirate King by Tricia Levenseller.

Thanks to the publisher for gifting me a copy in exchange for an honest review.
---
VERDICT:
Author: Connect with Author Danielle L. Jensen here.
What do you think? Will you read Dark Shores? If you have read it already, then let me know if you liked it or not. If you've read any of the books I recommended with Dark Shores, let me know in the comments below!