---
LINKS

&

SYNOPSIS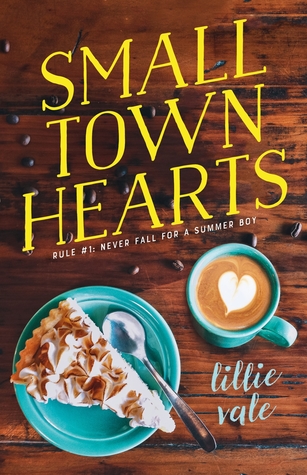 Rule #1 – Never fall for a summer boy.
Fresh out of high school, Babe Vogel should be thrilled to have the whole summer at her fingertips. She loves living in her lighthouse home in the sleepy Maine beach town of Oar's Rest and being a barista at the Busy Bean, but she's totally freaking out about how her life will change when her two best friends go to college in the fall. And when a reckless kiss causes all three of them to break up, she may lose them a lot sooner. On top of that, her ex-girlfriend is back in town, bringing with her a slew of memories, both good and bad.
And then there's Levi Keller, the cute artist who's spending all his free time at the coffee shop where she works. Levi's from out of town, and even though Babe knows better than to fall for a tourist who will leave when summer ends, she can't stop herself from wanting to know him. Can Babe keep her distance, or will she break the one rule she's always had – to never fall for a summer boy?
Trigger Warnings (credit goes to the author)
* manipulative friendship
* mention of casual drug usage (weed, not shown on the page)
* alcohol consumption (on page)
* alcohol abuse (a character drinks and parties to the point of dehydration and sleep-deprivation; two characters get wasted and are too drunk to fully consent to sex with each other)
---
Why should you read
Small Town Hearts
by Lillie Vale ?
There was safety in things staying the same. A year from now, five years from now, all I wanted was for us to be the same, doing things together, being the people we'd always been. I didn't want to be the kind of friends who drifted apart after high school, the kind who could live in the same town and still be strangers. I didn't want to think about fall and college and uncertainties."
I signed up for this blog tour because I was intrigued by the idea of a light hearted contemporary- which I was seriously lacking- and of beaches and baked goodies. Small Town Hearts fulfilled all of my expectations and beyond. I loved every bit of the book and I finished it in a day .. and let me just say I deserve some credit 'cause I read it while cursing at my digestive system. Yes, it was a terrible day but Small Town Hearts totally occupied my heart and not my stomach and uh, thank god for that.
uggghhh okay, I'm gonna stop with the puns now.
Small town Hearts is perfectly set up in a little town in Maine and the descriptions of the beach, lighthouse… everything made me dive right into the book. Don't even get me started on all the glorious foods that are mentioned in the book🤤🤤 Babe is our protagonist who is openly bi, works as a barista and also provides baked goodies..yum. Babe is such a sweet, lovable and RELATABLE character. She has got everything planned out for the summer or so she thought.
Babe had thought that this summer would be perfect as she wanted to spend it with her childhood friends Penny and Chad. Things start to wrong the moment she reaches Penny's houseboat and Penny ends up asking her help to finalise a break-up with Chad. This is the moment when I'm like spewing curses at Penny and later at Chad. Besides saying "what the f***" and other such lovely words, I found myself thinking of my ex best friend.
Maybe Penny wanted to friends with Babe..I mean who wouldn't?..but she took advantage of her every now and then. Babe's actions were so damn relatable that I couldn't unglue my eyes off of the book.
After a messy scene which ultimately led to the break up of Babe, Penny and Chad, Babe finds solace in her baking, with her friend and co-worker Lucy and one of the latest "summer boys" in town a.k.a Levi.
Levi is apparently a teenage blond god and soon, he becomes close with Babe but there's the tiny negative point about him: he's a summer boy. A summer boy is not here to stay forever and Babe is afraid of getting too close because she knows he'll leave soon. This is not the only problem Babe was facing. Guess what? Her ex-girlfriend Elodie is back in town for the summer too! So, what should Babe do? Will she rekindle her relationship with Elodie or take a leap of summer love with Levi?
I love reading contemporaries and before starting this blog, the genre was a popular choice of mine… so I read a LOT of contemparies . I can say with absolute certainity that Small town Hearts is one of the best debut and contempoary read of all time. Lillie Vale's writing will suck you in from the first page and you'll wish that you could be sucked into that seaside town. The writing feels so calming and sumptuous at the same time. Tip: Do not read this book on an empty stomach or well, *ahem* a bad one.
Overall, I highly recommend this book if you love reading about bisexual protagonists, summer love, friendships, bittersweet endings, yummy food(yum Black forest cake), beaches. I can't go on.. *screams this is torture and want to reread the book*..Okay. PLEASE BUY THIS BOOK and I would love you if you used my BD affiliate link to do so!
Thanks to the publisher for providing me an ARC in exchange for an honest review.
VERDICT:
Author: Connect with Author Lillie Vale here or here
Publisher: Swoon Reads
Publication Date: 19 March , 2019
Paperback(ARC): 416 Pages
Did you enjoy reading my review of Small Town Hearts? Do you think you'll read it? Or,have you already read it? Let me know your thoughts in the comments below and check out my Instagram creative post here . As always, thank you for reading!