Synopsis:Darcy Barrett has undertaken a global survey of men. She's travelled the world, and can categorically say that no one measures up to Tom Valeska, whose only flaw is that Darcy's twin brother Jamie saw him first and claimed him forever as his best friend. Despite Darcy's best efforts, Tom's off limits and loyal to her brother, 99%. That's the problem with finding her dream man at age eight and peaking in her photography career at age twenty—ever since, she's had to learn to settle for good enough.
When Darcy and Jamie inherit a tumble-down cottage from their grandmother, they're left with strict instructions to bring it back to its former glory and sell the property. Darcy plans to be in an aisle seat halfway across the ocean as soon as the renovations start, but before she can cut and run, she finds a familiar face on her porch: house-flipper extraordinaire Tom's arrived, he's bearing power tools, and he's single for the first time in almost a decade.
Suddenly Darcy's considering sticking around to make sure her twin doesn't ruin the cottage's inherent magic with his penchant for grey and chrome. She's definitely not staying because of her new business partner's tight t-shirts, or that perfect face that's inspiring her to pick up her camera again. Soon sparks are flying—and it's not the faulty wiring. It turns out one percent of Tom's heart might not be enough for Darcy anymore. This time around, she's switching things up. She's going to make Tom Valeska 99 percent hers.
---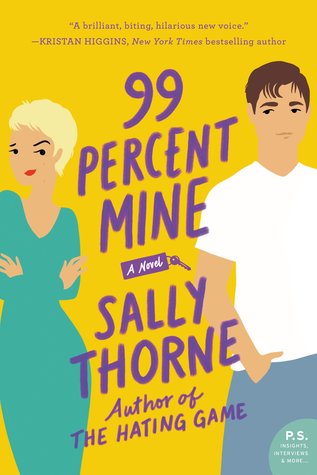 ---
REVIEW | WHY SHOULD YOU READ 99 PERCENT MINE?
"Everything. If you were mine, I'd do everything." Our gold bubble locks shut, and a little universe fills it. The possibilities are infinite.
"I have a big imagination. Could you be more specific?" I put my hand on the side of his neck and stroke down to the hard bar of his collarbone. His skin is hot satin. His pulse nudges me.
Mine, mine, mine. One thousand percent mine until the end of time. He looks like he agrees.
I have decided to write this review differently because the blurb basically sums up what I would have told you. Read on for a bullet-pointed review of one my favourite romance books of 2019 :
If you loved reading The Hating Game, then you should totally read it!
It was funny, romantic and so very Sally Thorne.
Friends-to-lovers and second chance romance. If you're a hopeless romantic, then I'll guarantee that you'll fall in love this book.
Love feisty characters? Then I give you Darcy. She has short hair(not the pixie haircut), nipple piercing, wears leather pants…need I go on? Darcy is unapologetic, wild and impulsive.
Tall men especially 6ft tall soft boys are my kryptonite…and Tom Valeska is every inch of that .
The chemistry between Tom and Darcy was scorchingly hot!
Overall, this is a perfectly written romantic comedy. It was sweet, sexy and passionate as hell. Darcy can be seen as an unlikeable character at first but once you go further into the book, you'll start to fall in love with her. I read this book in the 24 in 48 readathon and it was a poor choice because I wanted to savour this Darcy savours a candy or anything with sugar in it.
What are you waiting for ? Go and buy it from BD or Amazon, your local store or borrow it from your friend or your local library !
Thanks to the publisher for an advanced review copy in exchange for an honest review.
Verdict: 5 out of 5 stars
Author: Connect with Author Sally Thorne on Goodreads.
Publisher: William Morrow Paperbacks
Publication Date(US): 29 January 2019
Paperback(ARC): 368 Pages
Let me know if you're planning to read 99 Percent Mine or if you've already read it. If you loved reading my review, let me know !