Follow my blog with Bloglovin
If you have read my Christmas post then you know that I had posted a tentative January TBR there too…so why am I posting it again? Because I have changed my January TBR and in this post, you can read about my REVISED January TBR! Read on ……..
I am a mood reader so, besides the ARCs I receive, I usually pick up books on my whim….meaning, I buy or borrow them. This year, I treated myself with some Penguin Clothbound Classics but I am afraid to touch them with my bare hands. Here they are :
I have already read Pride and Prejudice and Wuthering Heights so I have yet to read Villette and The Tenant of Wildfell Hall.
Now, without further delay, let's us get into my January TBR and other books I read while ignoring my TBR >>>>
The Wolf in the Whale by Jordanna Max Brodsky
This book was in my previously written list and I've already reviewed it on my blog. It's a brilliantly researched fantasy novel about the Inuit and Vikings and their Gods. Its set about a 1000 years ago and has some sensitives themes like rape and violence.
2. Moonlight Scandals (De Vincent series) by Jennifer L. Armentrout
This book was not in my previous written TBR list because I was waiting to get my hands on this …and I did! Moonlight Scandals is scheduled to be released on 29th January 2019 and I received an eARC from Avon Books in exchange for an honest review. So, keep a look out for the review of Moonlight Scandals if you're a fan of Jennifer L. Armentrout !
3. The Wicked King (The Folk of the Air #2) by Holly Black
'One of the most anticipated books of 2019' said almost every book blogger and/or bookstagrammer and why not? It is about faeries, a bad boy prince Cardan, anti-hero Jude, dark, witty and humorous…Who wouldn't want to read it? Well, I do want to but I am skeptical of the major hype around the book so I've decided to read an ebook and will include a review after I've read it.
4. Once Upon A River by Diane Setterfield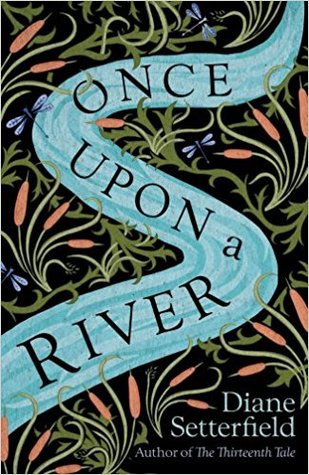 I have finished reading it and reviewing it on Goodreads . I will include a full review here as well.
5. The Winternight Trilogy :
THAT was my planned TBR, but nothing goes according to plans when you're me, so here are the books I read that were not a part of my January TBR :
Lady Midnight (The Dark Artifices, #1) by Cassandra Clare
It was high time I picked up Lady Midnight and I want to read the second book now!! …but I won't because I need to savor and digest whatever I just read.

Lady Midnight follows Emma Carstairs, Julian Blackthorn (and his brothers and sisters) after the dark war, as they discover mysterious markings on dead bodies. Soon their path of investigation leads them to break the Cold Peace and will lead Emma to her parents' murderer and it might be someone who is close to them.

I loved it as I had loved The Mortal Instruments, perhaps more. Cassandra Clare's writing is as descriptive and clever as ever. I was screaming, crying, making "moon-y eyes" while reading and I wish Julian was real now ..Man, I am addicted.

If you still haven't read Cassandra Clare's books, start with The Mortal Instruments series and if you love them..well, join the club and start reading this series too!

Lord of Shadows (The Dark Artifices, #2) by Cassandra Clare
I didn't write a review for Lord of Shadows but I will say one thing: it was everything. In terms of a sequel, Cassandra Clare delivered laughs, love, and heartbreak with this book.The ending was devastating.
Queen of Air and Darkness (The Dark Artifices, #3) by Cassandra Clare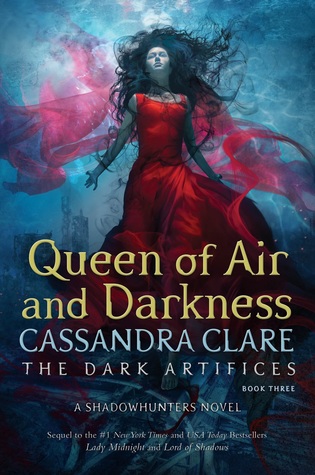 This book..made me a little crazy. It was intense ..a little too much perhaps.
The Cohort members went from crazy heretic to full-on psychotic. I loved seeing Julian and Emma(finally!) happy and together in the end. The epilogue ..I wasn't expecting it, to say the least. Let Clary and Jace live in peace!!!!!!
Overall, it was a great and fitting ending to the series.
That is all for now! Have you read Cassandra Clare's books ? Then, By the Angel, let's be friends forever! Or , do you plan or adding any of the books to your TBR ? Let me know in the comments below .