Synopsis: Aging and reclusive Hollywood movie icon Evelyn Hugo is finally ready to tell the truth about her glamorous and scandalous life. But when she chooses unknown magazine reporter Monique Grant for the job, no one is more astounded than Monique herself. Why her? Why now?
Monique is not exactly on top of the world. Her husband has left her, and her professional life is going nowhere. Regardless of why Evelyn has selected her to write her biography, Monique is determined to use this opportunity to jumpstart her career.
Summoned to Evelyn's luxurious apartment, Monique listens in fascination as the actress tells her story. From making her way to Los Angeles in the 1950s to her decision to leave show business in the '80s, and, of course, the seven husbands along the way, Evelyn unspools a tale of ruthless ambition, unexpected friendship, and a great forbidden love. Monique begins to feel a very real connection to the legendary star, but as Evelyn's story near its conclusion, it becomes clear that her life intersects with Monique's own in tragic and irreversible ways.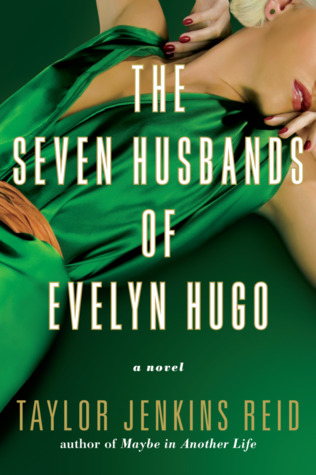 Buy on Amazon | Book Depository
Review: I picked up this book because I was given an ARC by the publisher. Although I have seen it making rounds on Instagram, I wouldn't have picked it up anytime soon.
The title "The Seven husbands …" makes you wonder that this book is entirely about the love life of a Hollywood actress but it so isn't.
The book starts with Monique Grant, an ambitious journalist, who is sent to interview a famous ex-actress Evelyn Hugo. It should be a normal interview but it isn't for a number of reasons:
One, Evelyn specifically requested Monique ;
Two, when Monique went to meet with Evelyn, she confessed that there isn't going to be an interview afterall!
LET ME EXPLAIN:
Evelyn doesn't want to do a "tell-all" interview, she wants Monique to write her biography which she has to publish after Evelyn's death. Day after day, Evelyn unravels all the secrets and lies and finally, she reveals the real love of her life. The questions are : Did she love any of her seven husbands? Or, did she love someone else? Why did she specifically request Monique Grant?
Let's talk about the things I loved and didn't :
I loved Evelyn Hugo. She is such a flawed character and is totally aware of it. When you will read about the struggles she had to go through, I'm sure that you will fall in love with Evelyn as well.
I loved the pace of the story and the surprise ending.
Overall, I loved reading this book. It has everything -from old Hollywood stories to topics like sexism, racism; drama and a heartbreaking reveal.
Verdict: 5 out of 5 stars
Author: Connect with Author Taylor Jenkins Reid on Goodreads.
Publisher: Simon and Schuster UK Fiction
Publication Date: May 2018
Paperback(ARC): 400 Pages